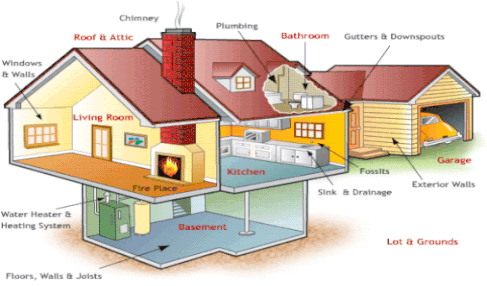 PRE-PURCHASE INSPECTION REPORT



This type of report is a must have for any purchase of an existing house or new home, any visible faults will be identified and reported.
(Basically this is like a WOF inspection on the home.)

Head-start inspections are very comprehensive, looking at 100's of items of interest that you have not seen during your open home visit.
(This report includes a free NZ Heathy Homes assessment)

LEAKY HOMES AND ASBESTOSE

LEAKY HOMES AND BUILDINGS.
Leaky Buildings have been a feature of the New Zealand real estate landscape for several years now, usually from the point of view of heartache caused by large repair bills, litigation headaches and even the demolition of what were architecturally designed homes.
If you are looking to buy a home, be sure you understand what the leaky home issues are, what the warning signs are, and what the cost of repairs would be if you buy one
If the home you want to buy was built between the late 1980s and mid-2000s, there is a risk that it may be a leaky building.
We use the term 'leaky building' because the problem is also found in apartments and commercial buildings.
These buildings can be very expensive to fix, so it's important to get as much information as you can before you buy it.
UNTREATED FRAMING.
Up to 1992, most timber used for house framing in New Zealand was radiata pine treated with boron. From the early 1990s, a range of alternative timber framing treatment options for radiata pine became available. From 1995 to 2005, homes were often built with untreated kiln-dried radiata pine framing.
MONOLITHIC CLADDING.
These plaster cladding systems can be good if the plasterer has done a professional job. With many new options on the market and allegedly many self-taught plasterers forming businesses to keep up with the housing boom of the 1990's it was well documented this is one of the factors that contributed to the leaky homes crisis. Generally, as long as the plaster coating is in good condition and maintenance isn't deferred it's fine. However, if this cladding is left with weather tightness issues the timber behind the cladding can rot and compromise the integrity of the framing. Recladding a leaky home depending on the materials and extent of work required is a significant undertaking, costing hundreds of thousands in some cases to successfully remedy and repair the building.
BUILDING CODE CHANGED.
Both the building code and the Building Act changed in 2004. The updated code requires monolithic clad homes to be positioned over a drained cavity system. This system allows for good airflow and allows any moisture to escape which reduces the chance of it entering the dwellings timber framing. Moisture can promote mold and dampness in the home leading to health problems for you and your family. The updated code was required to keep buildings safe and stop the leaky home NZ crisis.
The best advice ever with this type of cladding, is as soon as you see cracks or any damage, seal it straight away. Also, if you have single glazed windows and poor ventilation, condensation can get in behind window openings and cause moisture damage, especially if the framing is untreated.
ASBESTOSE FIBER CEMENT.
Asbestos fiber cement was a cladding material used in New Zealand and around the world for several years. Asbestos products were generally used up until around the 1980s, but it's not uncommon to see them feature in homes built before the year 2000.
They went by brand names like Fibrolite, Durock, and Hardiplank and still exist in thousands of homes built today.
When left alone and kept in excellent condition, fiber cement with asbestos doesn't pose much of a health risk. Typically, it only becomes unsafe when it's broken, damaged, cracked, or cut, exposing fibres that can become airborne and cause various health problems.
Having completed a building inspection can confirm to an interested buyer that the property is sound and can give them peace of mind.
For an independent Leaky Building report or a pre-purchase inspection, contact us today. Our building inspectors are ready to help you with anything you may be unsure about with the health of your home.
Head-Start Reports have a simple easy to read assessment and offer a Certificate of Compliance
We also offer a verbal none written onsite consultation
$150
this will assist you with current New Zealand Healthy Homes standards.
All or housing reports below include this assessment Free as part of each comprehensive property report.
Property Project Management
If you need work done, and don't know who to call?
We can manage your projects for you from start to finish. No job is to big or to small for our property project management team and resources.

RENTAL PROPERTY MAINTENANCE
This report will allow you to better maintain your investment, with a report compiled annually (or between tenancy) you will be able to keep track of changes, damages or up coming issues before they become a problem for you and your tenant.
Preventive maintenance can be cost saving in the future.
(This type of report includes our free NZ Heathy Homes assessment)
PRE-SALE ASSESSMENT AND CONSULTANTSY
This report is for those about to list there property.
Both commercial or private home, a face to face onsite meeting
with an inspection consultant is the best way to establish any unforeseen faults or areas of improvement.

An excellent way to establish the condition of a home for both parties.
This comprehensive report will give a very clear and unbiased record of the overall condition of the property to be rented, it is far more
in-depth than most property managers can allow time for and will
hi-light any existing damages or faults for easy comparison at the end of the tenancy
(This type of report includes our free NZ Heathy Homes assessment)
Commercial building reports are available for pre-purchase,
pre-lease, and end of lease.
highly recommended reports to establish the condition of the building before you sign your name to it.
Are there any underlying problems with the building?
Is it secure, and water tight from roof to floor?
Is it fire safe and compliant?
Before you take possession, and make final payments to the builders,
it pays to have a independent and final
New Building Inspection.
this will identify any damages or poor workmanship to be repaired, and peace of mind that you are getting the quality that you are paying for.
We have one price for all homes up to 3 bedrooms,(150M2) set at $500.oo + GST.

(Including a free NZ healthy home assessment)

Commercial Reports are calculated by the approximate M2
(some additional cost may apply for travel)
refer to the map on the following page
To arrange and book a report with us, please use our contact page or
talk directly with Graeme
0226876721
Property Project Management
Need work done? don't know who to call? Not sure were to start?
We can manage your projects for you from start to finish. No job is to big or to small for our property project management team and resources.
What our customers are saying
"We had a very urgent request for the house we wanted to bid because the auction was going to happen in a few days. Graeme was able to complete the house inspection with the time frame given and did a great job. The report provided very detailed information with all the pictures and comments given. Afterwards we had a phone call with Graeme to go through our questions, he handled our questions and concerns of the property in a very professional manner. In the call he was very friendly and patient, provided further explanations. The services was excellent and definitely worth the value. Highly recommended!

SOME OF THE THINGS WE FIND
/